Painting in Bellingham 2016
Contact me at brooksta2011@gmail.com to request a painting of your favorite Bellingham cityscape,
arrange a visit to my studio or discuss doing a portrait.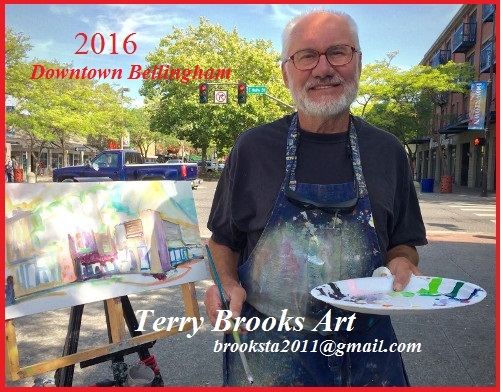 My 2015 Bellingham page
My 2014 Bellingham page
My Tumblr blog
(Click images to enlarge)
Series: Skinny Delice and the Life of Style
Flowers
Screaming Eve, April 8, 2016 Collection of Coral Greenwood
The Royal, April 1, 2016 Price: $50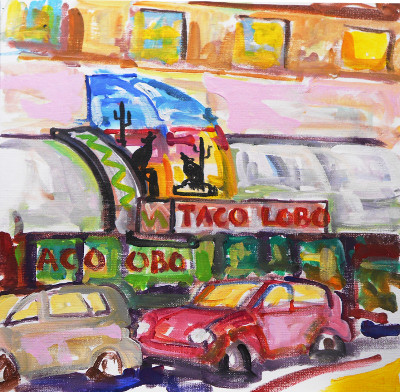 Taco Lobo, March 18, 2016 Price: $50
Series: The Kitten Sisters
Stickem Up
Tie'em Up

Extra Crispy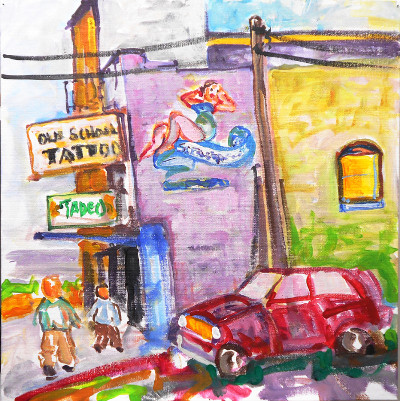 Old School Tattoo, March 5, 2016 Private collection.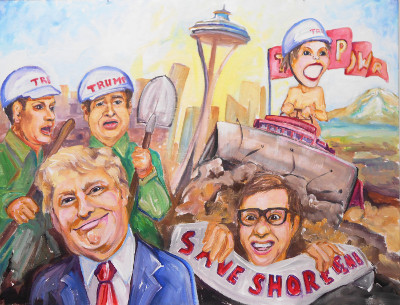 "Only one protester showed up at the ground breaking ceremony of Trump Tower Shoreline"
March 1, 2019 ("Super Tuesday"). Collection of G.M. Brooks.
Donald Trump appears pleased and Marco Rubio and Ted Cruz are ready at hand as ground is broken for Trump Tower Shoreline. Only one protester showed up. Driving the earth moving machine is one of Trump's undocumented workers. Her lack of safety apparel exemplifies his disregard of labor safety regulations.
State Street Bar, February 29, 2016 Price: $50
Series: Commando Julie Springer
Defense Secretary Ash Carter announced today that beginning in January 2016, all military occupations and positions will be open to women, without exception. U.S. Dept. of Defense
Bulldog

Charlize

Liberation
Lunch
Sheep
BarBQ
---